Undergraduate Addictions Counseling Degree Options: Is it even necessary?
If you are beginning to consider addiction counseling as a career, you probably realize there are a lot of options! Addiction counseling degrees are offered at the undergraduate and graduate levels.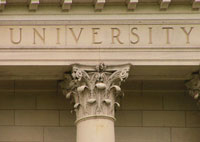 Is the bachelor's degree in addictions primarily career preparation or grad school preparation? Primarily, it's the former — but it can be both. You can earn a substance abuse license or certification with an undergraduate degree. You may continue on to graduate school for any of several reasons: You may want to expand your scope of practice. You may want to provide therapy to the large segment of the population that has concurrent substance abuse and mental illness. You may want to practice privately and/ or independently. You may want the option of having your diagnosis and treatment services funded through government programs. You may want the various perks that come with having a professional counseling license.
<!- mfunc feat_school ->
Featured Programs:
Sponsored School(s)
<!- /mfunc feat_school -> <!- mfunc search_btn -> <!- /mfunc search_btn ->
Undergraduate Addiction Studies Degrees as Graduate School Preparation
Do you have to have to earn a bachelor's degree in addiction counseling to be accepted into a master's program? In most cases, no — not if you are a competitive enough candidate all-round. In some cases, you will need a degree in a field that's at least loosely related. Washburn University, located in Kansas, notes that applicants must have degrees in human services-related fields (for example, nursing or psychology) because, as per Kansas law, licensees at the master's level must also meet requirements for licensure at the lower level; this means having a bachelor's degree in a field related to human services.
Most states aren't this strict. Most programs don't impose this admission requirement. However, graduate programs are, to varying degrees, competitive. Before you can be licensed or certified as an addiction counselor, you will need to complete a supervised practice requirement. Graduate programs will look for evidence that you will be successful. You often need to submit references and resume, as well as a personal statement. You will likely need to go through an interview process. Graduate programs favor candidates who have not just an ideal of helping others but a sense of what it actually means in the context of a particular role.
It's less about having the degree than having the opportunities it offers. You will likely have supervised practical training as part of your degree program. You may earn a significant number of experience hours by the time your program is over. This can translate to strong references and a compelling personal statement.
Undergraduate Addiction Studies Degrees as Career Preparation
The most significant advantage of an undergraduate degree in addictions, though, is that it can lead straight to a career. Having a bachelor's will place you at the average degree level for the profession, according to data from the Addiction Technology Transfer Center. If your degree is in addiction studies, you will have something that many addiction counselors don't have.
As a bachelor's level counselor, you can offer direct services in agency settings where people are in dire need of care. Many states even allow bachelor's level counselors to specialize in treatment of co-occurring disorders (though the scope of practice is typically more limited than it is at the master's level). Whatever you decide to do down the line, you will have an opportunity to earn an income in the near future; this is assuming that you are successful not only in your didactic coursework but in your practical experiences.
Different types of addiction studies program will serve different needs. It's not just about BS vs BA but about the department the program is housed in. Addiction studies can be offered as a concentration within various degree programs, including psychology and social work.
You may also be interested in learning about an associate's degree in substance abuse counseling as undergraduate addictions counselor career preparation.
<!- mfunc search_btn -> <!- /mfunc search_btn ->