Gambling Addiction Counseling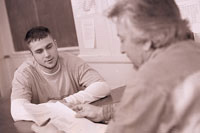 Not all addictions are to chemical substances. There are also process addictions like pathological gambling. While there can be serious financial consequences to pathological gambling, the problems would still be there even if the debts were all paid. The addiction impacts not only the gambler but family and friends. Problem gamblers may not suffer physical withdrawal symptoms, but they are caught in a similar cycle. The Oklahoma Association states that gambling, like a tranquilizer or a drink, causes an alteration in mood. People keep gambling because they want that change in mood; like drug addicts, they can develop tolerance and feel the need to up the ante (http://www.oapcg.org/). According to UCLA, the gambler may seek either a high or oblivion (http://www.uclagamblingprogram.org/education/index.php). There are links between pathological gambling and other disorders, including, surprisingly, post-traumatic stress disorder.
<!- mfunc search_btn -> <!- /mfunc search_btn ->
Gambling addiction studies co-director, Dr. Timothy Fong, in a question and answer session on the New York Times blog, notes a few differences between substance use management and gambling addiction management. There are no objective tests to see if a person has gambled recently, and there are no medications specifically for gambling addiction (though treatment of co-occurring or precipitating conditions may help). Ultimately, the treatment approach is more similar than different.
Others concur. The Association of Addiction Professionals (NAADAC) states that according to the newly revised DSM V, problem gambling has a lot in common with chemical dependency. NAADAC also notes that the co-occurrence of substance abuse and problem gambling has been estimated to be between 9% and 30% (https://www.naadac.org/).
This means that if you're an addiction counselor, treating compulsive gamblers isn't just an option you could pursue down the road. Chances are good there are already some in the waiting room.
<!- mfunc feat_school ->
Featured Programs:
Sponsored School(s)
<!- /mfunc feat_school ->
Specializing in Gambling Addiction Counseling
Can you choose to specialize in treating gambling addiction? Sure. There's a need for professionals with expertise. There are also education programs to develop your skills, professional organizations to support your growth, and certifications to attest to your competence. You may not need to go far. Some organizations support addiction counselors who treat both substance abuse and gambling.
The gambling counselor specialty is typically bachelor's level or higher. In other words, it often takes a little more education to break into the field than it does to be credentialed as a chemical dependency counselor. Professionals can pursue certificates or take coursework through professional organizations.
A number of state addiction counseling boards recognize gambling addiction counselors. In some cases, problem gambling is a state-issued credential. Louisiana, for example, recognizes Certified Compulsive Gambling Counselors. Nevada has even included "gambling" in the title of the addiction counseling board: the Nevada Board of Alcohol, Drug & Gambling Counselors.
Credentials can be more than just a way of signaling to employers that you have expertise in the field. In some cases, they impact both the reimbursement and referral process. You may, for example, be able to contract to provide services to individuals who cannot afford to pay (http://www.evergreencpg.org/training/counselor-certification-info/).
The National Council on Problem Gambling is a professional organization as well as a resource (http://www.ncpgambling.org/programs-resources/membership). There are affiliates in most states. Counselors can pursue certification through the National Council. The National Certified Gambling Counselor credential is granted to professionals who provide evidence of having earned bachelor's degrees or certifications in related fields (http://www.ncpgambling.org/training-certification/ncgc-certification/). Candidates must meet an examination requirement. They must meet other requirements like completing gambling-specific training and going through a peer evaluation process. The National Council also awards the Board Approved Clinical Consultant credential to professionals who have graduate level education or equivalent credentialing, have spent some time at the supervisor level, and have generally distinguished themselves in the field.
<!- mfunc search_btn -> <!- /mfunc search_btn ->