Why Addiction Counselors Go by So Many Names
The DSM IV recognized substance abuse and substance dependence as separate substance use disorders (https://www.partners.org/assets/documents/graduate-medical-education/substanceb.pdf). Substance dependence referred to the physiological effects of tolerance and withdrawal while abuse had to do with effects out in society, from difficulty maintaining a job to brushes with the law. The DSM V collapsed abuse and dependence into one disorder.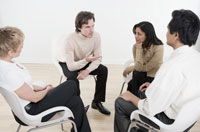 At about the time that the DSM V debuted, Utah ceased to license 'substance abuse counselors' and began to license 'substance use disorder counselors'. The state's counselors have a modern, and arguably inclusive, title.
Substance use disorder counselors go by a lot of titles: chemical dependency professional, substance abuse counselor, alcohol and drug counselor, addiction counselor. The titles reflect the thinking of some group of people at some point in time. They don't necessarily reflect current differences. Use of a more narrow term doesn't mean the training is. Washington State, which issues a chemical dependency professional license, has reviewed the policies of multiple states for equivalency (https://doh.wa.gov/licenses-permits-and-certificates/professions-new-renew-or-update/substance-use-disorder-professional/certification-requirements). The state agency has given the green light to a lot of credentials that go by a lot of different titles. Wyoming licenses highly trained master's level practitioners as addition therapists and accepts degrees with concentrations in chemical dependency, substance abuse, or addictionology (https://mentalhealth.wyo.gov/professionals-1/reciprocity-applications).
This isn't to say that credentialing standards are equivalent, but that the title is not the best indicator of equivalency.
<!- mfunc search_btn -> <!- /mfunc search_btn ->
Becoming More Inclusive
Names evolve over time. The national professional organization and certifying agency NAADAC began as the National Association of Alcoholism Counselors and Trainers (NAACT), becoming the National Association for Alcoholism and Drug Abuse Counselors, and then the Association for Addiction Professionals. NAADAC notes that the current name is designed to be inclusive, representing a profession that includes counselors, social workers, and administrators (http://naadac.org/about). The current description of certification requirements gives a nod to the DSM and its nomenclature: In order to be certified by NAADAC as a National Certified Addiction Counselor, one needs to be state licensed as a substance use disorder counselor (https://www.naadac.org/ncaci1). The term, one can surmise, is designed to be inclusive, including those who call themselves by a variety of titles.
Significance of Titles
The title can give some clue to scope of practice. 'Therapy' or "Therapist' has sometimes connoted something higher than 'counseling' or 'counselor'. Wyoming calls master's level practitioners addiction therapists. Wyoming's therapists have a greater scope of practitioner than their practitioners; however, other states use other methods of denoting status. The title can be a clue as to what national or international organization the board has ties to. The International Certification & Reciprocity Consortium/ Alcohol and Other Drug Abuse, Inc., (IC&RC) issues 'alcohol and drug counselor' certifications. Use of this title, or something very similar, can signify IC&RC membership. However, use of a different title does not mean the board does not have ties to the IC&RC. The IC&RC has grown many times since its beginning as a reciprocity agreement between Indiana, Michigan, and Wisconsin.
Increasing Credential Portability
Some state agencies are member boards of the IC&RC. Most states somehow incorporate NAADAC or IC&RC standards. Credentials are more portable than they were in a pre-IC&RC world. In some cases, they can be transferred. In others, the process is somewhat more complex. States often accept training and examination that were pursued as part of another agency's credentialing process even if there are some additional requirements imposed. One's credentials are more portable if they are based on a higher set of standards. With an academic degree in a related field, one often has more options.
<!- mfunc search_btn -> <!- /mfunc search_btn ->