What do you need to do to become a Substance Abuse Counselor?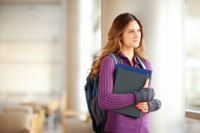 Substance abuse counselors often work in community services or other public facilities. To become one, you need specialized training in job functions. You will also need work experience before you can attain certification or licensure. At some point along the way, an examination is usually required.
Educational Options
You do not need as much education to become a substance abuse counselor as you do to assume many other mental health roles, including Licensed Professional Counselor or psychologist. It is sometimes possible to enter the field with a high school diploma. In many jurisdictions, you have the choice of learning counseling strategies and addiction-related concepts through approved continuing education or academic coursework.
<!- mfunc search_btn -> <!- /mfunc search_btn ->
A degree can be an asset, however. Formal education can be about more than just taking classes. Practicum or internship is a common requirement. The program may place you in one or more settings where you can make connections and begin to acquire that important (but sometimes elusive) experience. Didactic coursework also serves a role. The Addiction Technology Transfer Center calls formal education fundamental.
You can learn more about the various undergraduate education options in these two articles:
Academic Degrees
Degrees are offered at the associate's, bachelor's, and master's levels. Requirements will vary by location and job role, but it is often the norm to hold a bachelor's. In a 2012 report by the ATTC, directors reported that more than 60% of their direct care addictions staff had degrees at the bachelor's level or higher (https://attcnetwork.org/centers/global-attc/national-workforce-study).
While a bachelor's isn't technically required to work in the addiction counseling field, it can shorten the path to licensure. The well-respected International Certification and Reciprocity Consortium (IC&RC) has member boards in most states. In many states, a bachelor's degree can substitute for 2,000 hours of work experience, the equivalent of a full-time year. Even a degree at the associate's level will often shorten the path slightly. There is sometimes greater degree flexibility for those with education at the bachelor's level.
A bachelor's degree can do more than just reduce the number of hours you have to work to attain full credentialing. Sometimes it makes you eligible for a higher level of certification. Whereas IC&RC certifications typically grant equivalency credit for degrees, the NAADAC certification recognizes the degree directly. The Nationally Certified Addiction Counselor II (NCAC II) certification is not granted solely on the basis of education – but it is granted only to individuals with bachelor's degrees.
Some states have license categories specifically for individuals with education at the bachelor's level. Others set minimum requirements for qualified counselors, but don't mandate certification in all cases. Having a degree can make you qualified personnel when you wouldn't be otherwise.
<!- mfunc feat_school ->
Featured Programs:
Sponsored School(s)
<!- /mfunc feat_school ->
Entering the Field
Nearly half of directors responding to the 2012 survey reported that they faced challenges in staffing facilities with qualified workers. Of these, a majority cited a lack of qualified applicants. Roughly half cited lack of education and training; the other half cited lack of work experience in substance use disorder facilities.
You can choose your degree program — and your curricular and extracurricular activities — so that you finish with both. Some good news: Almost a third of ATTC respondents indicated that practicum and internship placements constituted an important part of the employee recruitment process.
If you are just getting started, you may want to check out ATTC resources for students (https://attcnetwork.org/centers/global-attc/educational-resources). You may also want to consider joining NAADAC as a student member (http://naadac.org/join).
A strong academic and professional background can mean choices. Work settings are varied, and can include correctional institutions and hotlines as well as detoxification centers, behavioral health units, methadone clinics, community health centers, and employee assistance programs.
<!- mfunc search_btn -> <!- /mfunc search_btn ->